Did you know that one factor that greatly affects the value of property on Lake Lanier is the water level or depth at the dock? You may be wondering why this matters.
Historically the surface level of Lake Lanier has fluctuated by as little as just a couple of feet during a year to as much as nearly 20 feet during severe drought conditions. The interactive chart below shows how the surface level has varied since 2010. Lake Lanier is at "full summer pool" at 1071mls. This means that the lake is considered to be full when the surface of the lake is at an elevation of 1071 feet above sea level.
Lake Lanier Levels
Place the mouse over any year on the legend to highlight the graph of that year.
Place the mouse over any point on any line to see the lake level for that day in history.
So why is this important to consider when looking at homes or property on Lake Lanier? Most boats operate just fine in less than 3 feet of water, right? So if I have 6 feet of water under my dock, isn't that pretty good? Well, in a word, NO! Looking a little more closely at our interactive chart, you will notice that during 4 of the past 5 years at some point the lake level of Lanier has gone to 1067 which is 4 feet below full pool. What does that mean for your dock that has 6 feet of water at full pool? Suddenly your quiet lovely cove that used to include your tranquil lakefront home…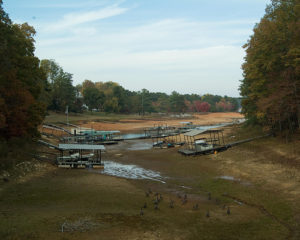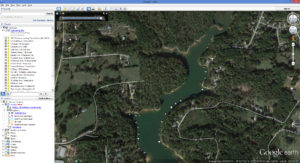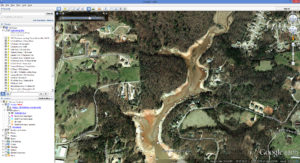 can suddenly in a matter of a couple of weeks become dirt-front property with little or no water under your dock!